3 years ago
Riding Boot Guide
Riding Boot Guide
So your in the market for a new pair of boots?
You have looked through our website and you don know where to start – we know, there is a lot of choice.
Here is a quick guide to hopefully iron out a few questions and work out what style and model is suitable for you.
Irena Model
We start with our entry boots, in super soft leather available in Black, Brown or Blue. These are a great boot for all disciplines and suitable for riding with 1-2 horses a day. As a company we also include the bottom zip guard free of charge to all our customers, super important for protecting the zip, as this stops
Fancy a bit of glam?
Again suitable for all disciplines we have the DeNiro Salentino and Donadeo AJ Models. Still keeping with the super soft leather for comfort but adding the top section for a hint of style. Again suitable for someone riding 1-2 horses a day. These boots have a range of different colours and textures available for the top sections.
Looking for durability?
The DeNiro salento is a super quality boot for hard wearing every day wear , because of the high grade of the leather used for these boots they are suitable for someone riding 3-4 horses a day. They also come with the Vibram sole, a super grippy and durable sole. Design wise these boots are a smooth finish leather with a large oval shape top that can be customised.
Dressage Rider?
For the ultimate dressage queen or King we have the Donadeo Matteo. Rigid boots available in huge choice of colour with optional top band. These boots feature an offset front zip and back whale bone offering the secure and still look required for the dressage market.
Showing Boots
To make sure your always in show condition, we have our traditional showing boots featuring the garter loop and strap. Within the showing boot range we offer a huge range of finishes from the super soft grainy leather to the Patent finish. The most customisable feature is whether you opt for the toe cap stitching or not!
We hope this blog has been of use to you, if you have any more questions or need an assistance please contact a member of the team and we would be happy to run though any requirements.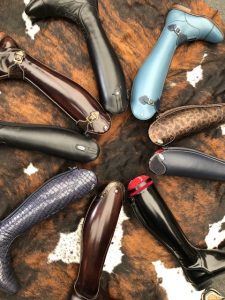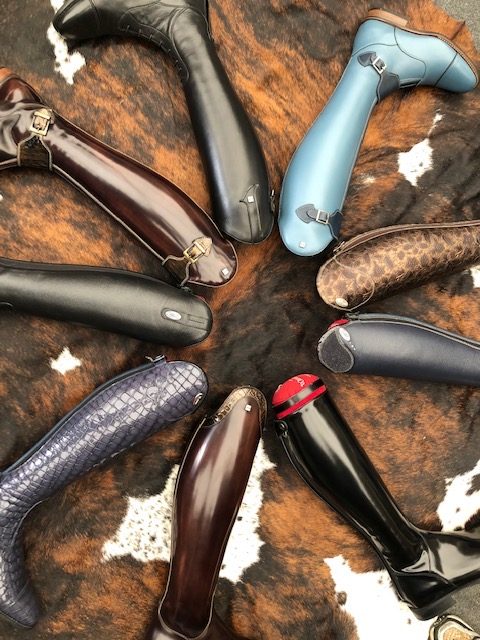 All our love
Joshua Jones UK